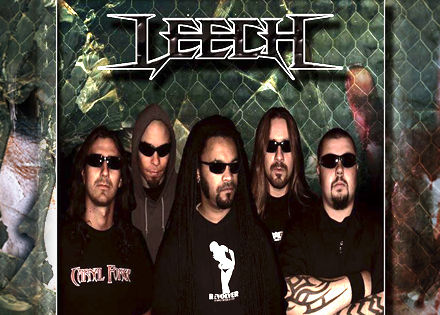 メンバーのうち3人が『SLAPDASH』 (元『ROSICRUCIAN』から派生したスラッシュ・メタル・バンド)、残り2人はスウェーデンの、いや、世界的にも有名なスラッシュ・バンド『CARNAL FORGE』で、中心人物である「ラーズ(リンデン)」が両バンドに所属している。
 暇があると、すぐにプロジェクトやら、メンバーチェンジと、なにかとややこしい北欧メタル界。
ここで本作バンド『リーチ』のラインナップを紹介。
Jens C Mortensen - Vocals
  (One Hour Hell, Carnal Forge, Revolver, Slapdash)
Magnus Söderman - Lead Guitar
  (Nightrage, Inrage, Lostsouls, Slapdash, Rosicrucian)
Jari Kuusisto - Rhythm Guitar
  (Sour System, Carnal Forge, In Thy Dreams)
  (Carnal Forge, Slapdash, Rosicrucian)
Stefan Westerberg - Drums
  (Skineater, Carnal Forge, In Thy Dreams, World Below, Asperity, Steel Attack)
 元々仲の良い間柄の為、好きな音楽は共通する点が多く、自然と目指す方向性は出来上がったようだ。ボーカルスタイルと作曲者が共通する点でSLAPDASHの延長上と思われるこの『リーチ』の最初で最後のアルバム。その理由は『CARNAL FORGE』の活動が忙しくなった。たったそれだけで、この名盤を幻にするわけにはいけないとう事で、ようやくジャックハマーミュージックが全世界に向けて発売に漕ぎ着けた。
 現在、リードギターのマグナスは『NIGHTRAGE』で活躍しており、残りのメンバー、ボーカルのイェンス、リズムギターのヤリ、ベースのラーズ、ドラムのステファンは『CARNAL FORGE』で活動中、2018年1月に新しいアルバムをリリース予定である。
Jens C Mortensen on vocals - a world class vocalist,
Magnus Söderman - top of the line lead guitarist,
Jari Kuusisto on rhythm guitar - a hard hitting and rock solid rhythm section consisting of members from Sweden's best brutal thrash/death band 『CARNAL FORGE』
Stefan Westerberg on drums
and Lars Lindén on bass.
They got together just for the fun of it and the combination turned out to a very nice mix of aggression, catchy choruses
and virtuous guitar playing not to mention all round great musicianship. And tuned in E...
11 songs were recorded and mixed in Studio Underground during year of 2003.
Starting in February and completed in September, in total around 7 weeks in the studio.
The promo was sent around but as 『CARNAL FORGE』
took much effort for Kuusisto, Westerberg and Lindén
there was not enough time to follow up and no deal was good enough at the time.
『LEECH』 said no thanks and the master went sadly enough down in the crypt of oblivion.
But 10 years later much have changed, and you can spread your disease so easy over the internet. Leech decided to enter the deepest pit of the metal mausoleum to dust of this unique masterpiece to let it flow out like a virus in cyberspace.
Like a top quality whiskey this album has aged with class and perfection. 10 years after the recordings it still sounds ridiculously fresh and will intoxicate you and blow you straight away in a complete head rush. Smooth as velvet, but with a slight bitter twist of life.
Utterly brilliant! Unreservedly radiant! Scrumptious!