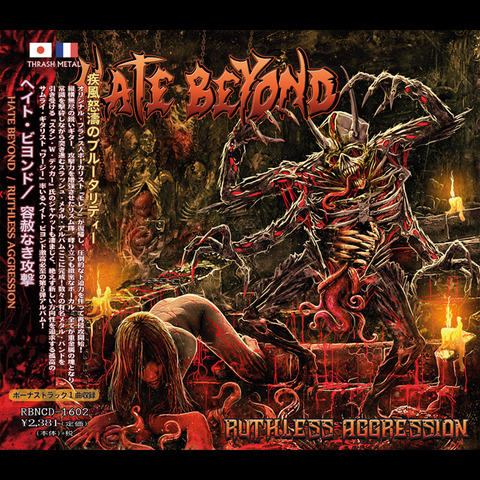 HATE BEYOND / Ruthless Aggression - CD
RUBICON MUSIC 2018 RBNCD-1602 CD JAN/ISBN : 4560329806029
発売日 : 2018年5月2日  定価 2,381円 (税抜)
ヘイト・ビヨンド『 ルースリス・アグレッション / 容赦なき攻撃』
疾風怒濤のブルータリティー!
オリジナル・フランス人ボーカリスト『モレノ』が復帰し、圧倒的なド迫力を伴って再侵攻開始!
縦横無尽の鋭いギター、攻撃力を増強させたリズム隊、哮り立つも緻密なボーカル、全てが重金属の塊となり、常識を撃砕しながら突き進むスラッシュ・メタル・アルバムここに完成!数々の有名メタル・バンドを引き受ける『スタン・W・デッカー』氏のジャケットも凄まじく、絶えず新しい方向性を追求する孤高のサムライ・ギタリスト『ワージー』率いるヘイト・ビヨンド激高必至の第5弾アルバム!
The roaring gale of rage and brutality! Original French vocalist Moreno returns to the fold, making an explosive entrance, like a wrecking ball of molten metal...highly volatile and hurling at flash point, it collides with insane guitar work that has reached the temperature of autoignition. The result is nothing short of INFERNAL.
The rhythms are blasting with machine gun precision, and the pummeling of a fighter's fist. This is the music of fire that only takes, the fire that frightens.
Samurai guitarist Warzy once again shows he is above the rest, as he boldly leads HATE BEYOND into new frontiers and directions on the band's 5th new album. His playing is audacious and intrepid, as he finds a way to forge riffs, speed and melody into a lethal brand of thrash music - one that is rooted in the genre's inception, relies on experience, but continues to evolve. Make no mistake, Warzy is the spearhead of this weapon of the future. It's name is HATE BEYOND. Cover art by Mr. Stan W. Decker also KILLER !!!
1. Intro (Instrumental)
2. Decomposed
3. The Incident Began
4. Greedy For Fame
5. Future Burned
6. The Nemesis
7. Red Eyes
8. Ruthless Aggression (Instrumental)
9. Blood Stuck
10. Live Wire (Bonus track - Mötley Crüe Cover)