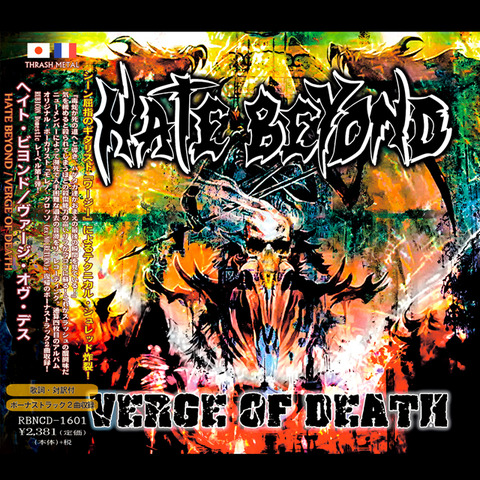 HATE BEYOND / Verge Of Death - CD
RUBICON MUSIC 2017 RBNCD-1601 JAN / ISBN : 4560329806012
発売日 : 2017年9月13日 定価 2,381円 (税抜)

 HATE BEYOND のフォース・アルバム。帯付き日本盤。新たに日本国内のルビコン・ミュージックからリニューアル発売!
 ボーナストラックにサードアルバムからの2曲を再録音し、オリジナル・ボーカリスト『モレノ』のボーカルで収録!("SOUTH BACK STABBED","FATALLY PARISH")さらにオリジナル英詩&日本語対訳、初代からの全メンバーの写真付き。

解説コメント:『毒蛇が死の道へと導き、ハゲタカ達がおまえの最後の瞬間を見ている!』
気を緩めると殺られてしまうほどの殺傷能力の高いリフが今ココに蘇る!これがスラッシュの醍醐味だ。ニューメンバーによって瀕死で入手困難な過去の音源をリ・レコーディング。通算四枚目のアルバム!

「A venom snake lead me to death road, vultures looking at the moment of my last 」
The 4th album by HATE BEYOND will be re-issued by Japanese label RUBICON MUSIC on September 13, 2017!!
Two songs, "SOUTH BACK STABBED" and "FATALLY PARISH" (taken from their third album) have been re-recorded and are included as bonus tracks featuring original vocalist "Moreno Grosso"!!
In addition, original English lyrics & Japanese translation lyrics.
Layout includes photos of all band members from the first generation to most recent lineup. Show me your guts!

Fast of full blast, heavy and growling, that is the best part of the thrash metal who you know well. It revives here from verge of death along with a lot of high killing ability guitar riffs. Don't let you guard down and be killed in it!!
Their fourth album. The songs are taken from previous three their albums as re-recorded and re-arranged by the current line up.
Japanese edition with OBI.