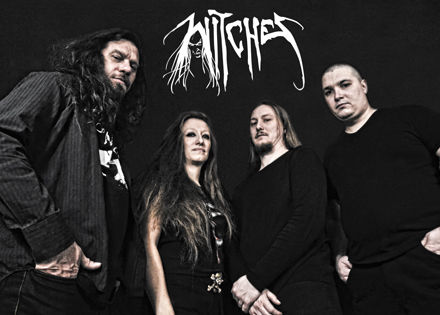 フランスで最初にガテラルボイスを使った女性シンガー『シビル』を中心に、1986年12月にフランスで結成。
 結成初期から盛んに音源をリリースし(当時はデモテープ)「Silly Symphony-1988」「Agressive Soap-1989」「Lost of the Precious-1991」「Wind of Time-1993」どれもすべて発売後には完売する売れ行きだった。
 1994年5月にドイツで録音されたファーストアルバム「3.4.1」は、フランス国内だけでも2000枚を売り切り『Relapse Records』や『Wild Rags』といったアメリカの有名インディーレーベルでも配給されて一躍有名になる。その後、ミニ・アルバム「MortNé-1997」をリリースした後、メンバーチェンジの為、一時バンドが休止となるが、2006年に再び始動、2007年にはセカンド・アルバム「7」をリリースした。
 その後もメンバーチェンジに苦悩しながらも、2014年には現メンバーが揃い、翌年5月、ミニ・アルバム「The Hunt」をリリースする。
 2016年12月に発売されたミニ・アルバム「30 years Thrashing」は1986~89年にリリースされたデモ音源から4曲を編曲し録り直した。それは以前にも増してスピードが加わり、ダイナミックで鋭く暴力的なスラッシュ・メタルが聴かれる。このアルバムにはギター&ボーカルの『シビル』の実兄で、フランスの有名なバンド「アグレッサー」のギタリスト『アレックス』がギターソロで参加している。
 そして今回、2017年の日本公演に合わせ、2015年のミニ・アルバム「The Hunt」と2016年のミニ・アルバム「30 years Thrashing」を1枚に収録されたアルバムを日本盤リリースする。このアルバムには未発表のボーナス・トラック1曲が追加され、昔からの朋友ヘイト・ビヨンドのギタリスト『ワージー』がゲストでギターソロを弾いている。
Formed in Dec. 1986, WITCHES is the first band in France with female guttural voice!
Between 1986 and 1993, WITCHES recorded several demos "Silly Symphony" - 1988, "Agressive Soap" - 1989, "Lost of the Precious" - 1991, "Wind of Time" - 1993. These tapes were distributed in France and overseas and were quickly sold out !
First album "3.4.1" recorded in may 1994 in Germany was produced and distributed in France and Belgium by Abathrash /Boucherie Productions and distributed by such label as Relapse Records and Wild Rags in the USA. This CD is sold out (2000 ex. sold only in France).
MCD "Mort Né" out in 1997, contained 5 songs, recorded later for the 2nd album.
Last full album "7" (pronounced in French "sept" / "cet"), was out in 2007 on label Multicom City Distribution. And is also nearly sold out.
For WITCHES First demos 25th anniversary, in sept 2014, Emanes Metal Records produced, a limited edition vinyl "Agressive Symphony" containing demos from 1988 & 1989.
September 2015 was the official release of "The Hunt" containing 6 tracks of pure speed thrash metal.
4 songs composed between 1986 et 1989 revisited, rearranged, re recorded in 2016 : more speed, more dynamic, more incisive, more violent! Guest for leads : Alex Colin-Tocquaine, guitar/singer of famous French Agressor, Sibylle's brother & Witches drummer of the old days (1986 -1989)
At the same time as the 30th anniversary since the group was founded, veteran thrashers who finally make their debut on the Japanese version! Their sounds are thrash metal with speed, dynamic, incisive and violent! This special edition CD for Japan contained those 2 mini album "The Hunt (2015)","30 years Thrashing (2016)" in one.
Also included unreleased bonus track 『RISING WITCHES』, "WARZY (HATE BEYOND)" join as a guest guitar solo!
The vocalist "Sibylle" is singing in this song in three languages, English, French and Japanese, Amazingly!